Price list - studio community Steel & Color
On this side we offer some select pieces of art of our works.
Tip with sold exhibits, we offer a reproduction. Then in this case it concerns around "order art "and the artistic freedom can vary according to arrangement within a contract for work.
With interest in a piece of art we ask you to us simply Email to transmit.
for questions to other art objects we are available with pleasure.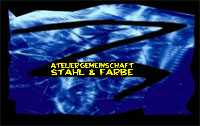 Studio community Steel and Color
• Henning Block and Sylvia Aevermann
• Am Tannenmoor 34
• D-29556 Suderburg
• ☎ 0049 (0)5826 880979
• ✉ webmaster@stahlundfarbe.de
• link: Index