Press report Uelzener newspaper 11.10.2009.
Criminal story, comedy plus more. Sylvia Aevermann from Stadensen introduces her Roman.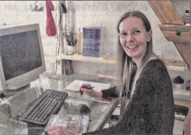 From DIRK MARWEDE Stadensen.
Your book carries the title "Omegalpha ZTT 08". Sounds complicated, anyway according to science fiction. However, far from it. Authoress Sylvia Aevermann from Stadensen has upon selection of theirs book title - of course - something thought. "Omegalpha", she says "stands for from the end on the top go", the abbreviation ZTT is called nothing else than "Zythera meets Tytche", the 0 symbolizes a circle and the 8 a cosmic cycle."That would be so clarified. So not a sience fiction novel separate a christmas crime film comedy and the has one easy and humorous story at the same time. There is to one of the crooks Crazy Will which loves to kidnap people and to blackmail them. There's to another also his daughter Loretta, the supposes, that their father also his wife Madolyn kidnaps has. But the can Crazy Will of course not admit. There Loretta has a great idea. She kidnaps itself, shall are called, she simulates her own kidnapping. For Crazy Will a world collapses, as Loretta without a trace has disappeared and he comes along on the search for her... "It is for me in the book, among the rest, about how to itself characters in the course of the time can change", says Sylvia Aevermann. "Whether Crazy Will becomes a better person? The must reader of "Omegalpha ZTT08" already themselves find out. "On the Frankfurters book fair will mine novel first time imagined", if Sylvia Aevermann is pleased, about one and a half years in the Roman has written. "I had the time and the writing has always given pleasure to me", if tells the free lance forming artist, has made to itself a name in the areas of painting and sculpture. With pleasure she reminds herself to the first while back. "However, one was whole to me importantly: I wanted the subject Christmas in the Roman contribute, because Christmas has for me always somewhat of new start. This also may with it hang up together that I have worked earlier in an old people's home. Christmas was for the inhabitants there always something special. There came children, itself all year round hardly have show up. Finally, sometime the Roman was finished and it put the question, what I to itself for me so that should start. Friends have got to me to search a publishing company..." Sylvia Aevermann has written up a total of 52 publishing companies, to them in the end, with the Schardt publishing company in Oldenburg made a find. Within less days the decision was made, the manuscript there as a book to publish.


Sylvia Aevermann still has the cover picture painted and then could the book after all into the print going. "I hope that itself efforts was worth has," she says, which in the intervening period already else continuation operates. "Omegalpha ZTT08" is in the good sorted booktrade available. On wednesday, 2. December, twenty clock, if Sylvia Aevermann invites to a reading in the creative memory in Uelzen. Omegalpha ZTT08, Sylvia Aevermann, Schardt publishing Oldenburg, 268 pages, price 12.80 euro.