Press report of common newspaper 28.04.2016.
Sylvia Aevermann and Henning Block could upon 25 concerted years look back.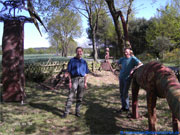 Team-reinforcement Stahl & Farbe reveled 25-year-old company anniversary.
Suderburg. At april 2016 reveled the studio community Stahl & Farbe of the artists Sylvia Aevermann and Henning Block their 25-year-old company anniversary. To the centres of gravity of their workings belong metal-sculpture (for example garden-sculptures. gateway doors, dragons and unicorns) and art painting. In addition has Sylvia Aevermann the well-known crime comedy Omegalpha Ztt08 released (the AZ reported). Reinforces becomes the team since short from Werner Warnke as manager. At the current time running the plannings for the construction of an workshop building in the industrial park Suderburg. Remains to hope, that Stahl & Farbe also further the audience with art actions delighted. All just about the studio community will find ones among www.stahlundfarbe.de.